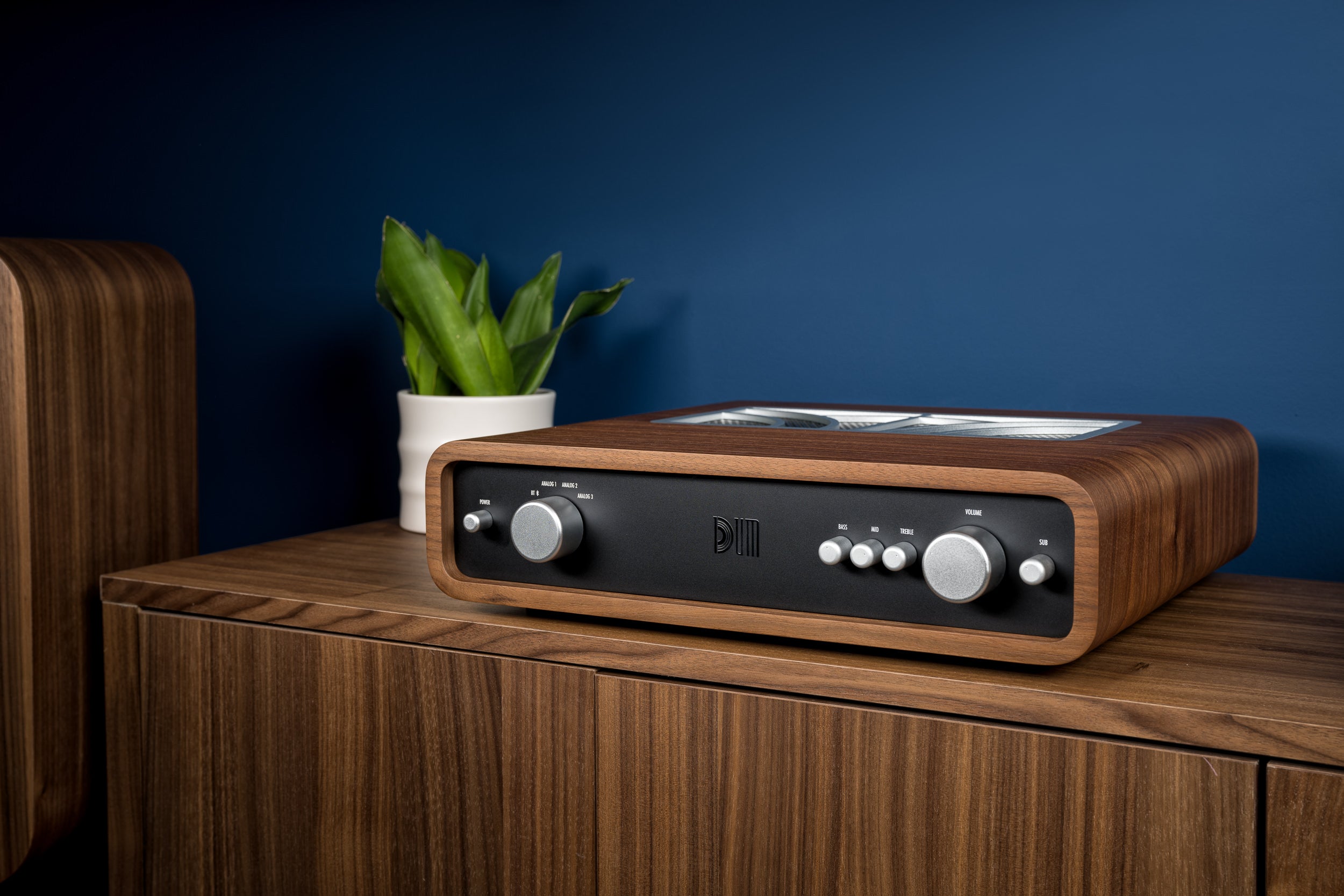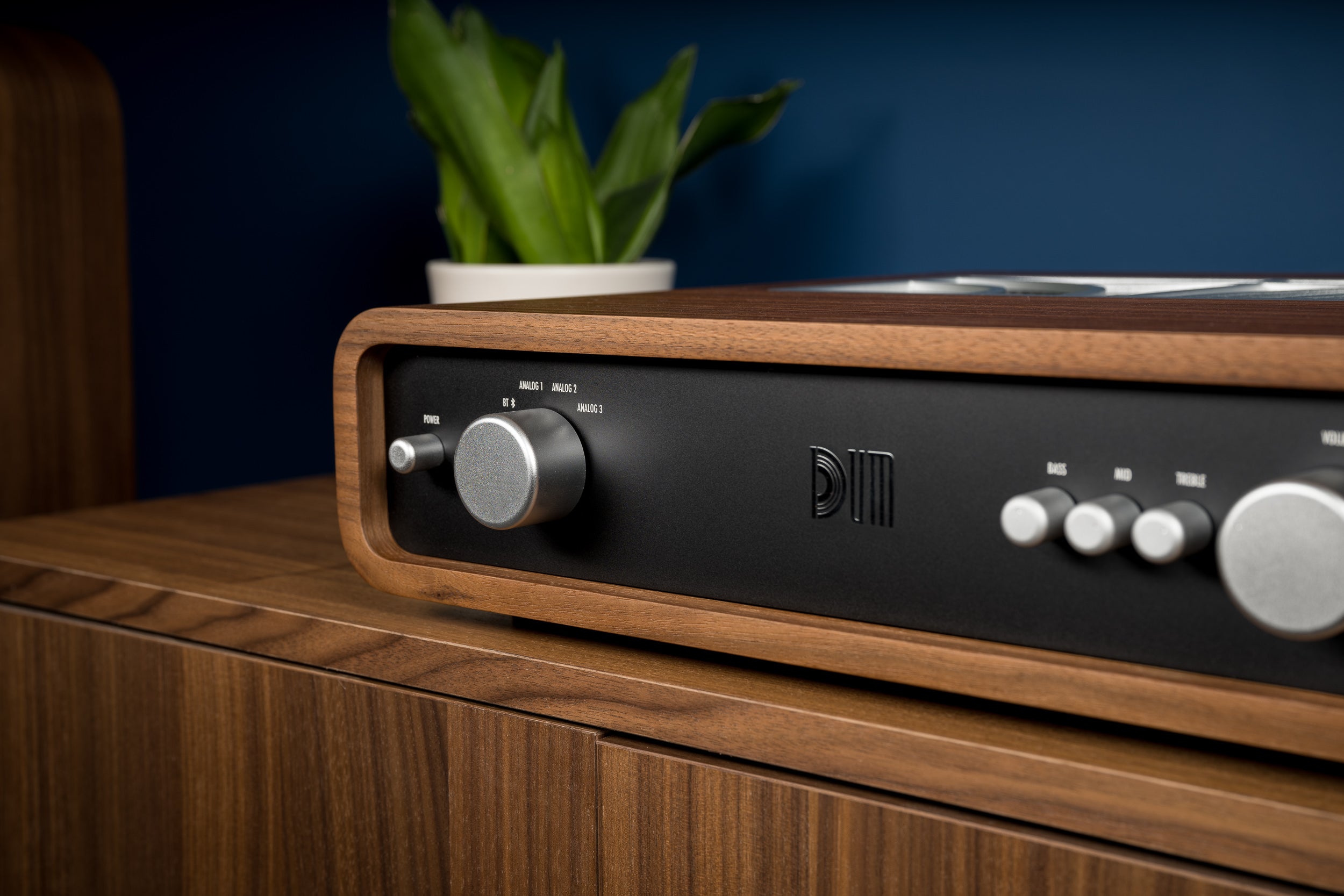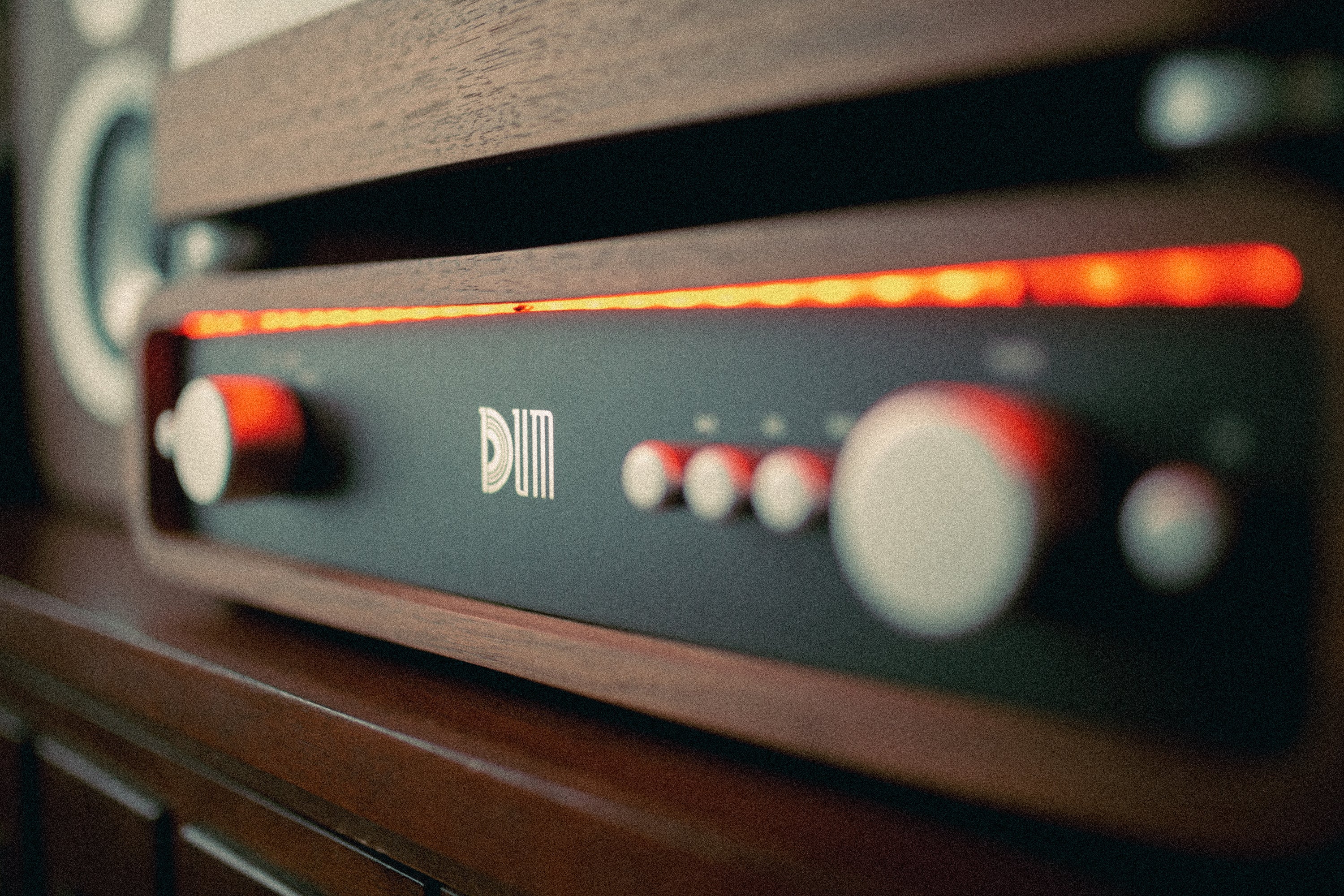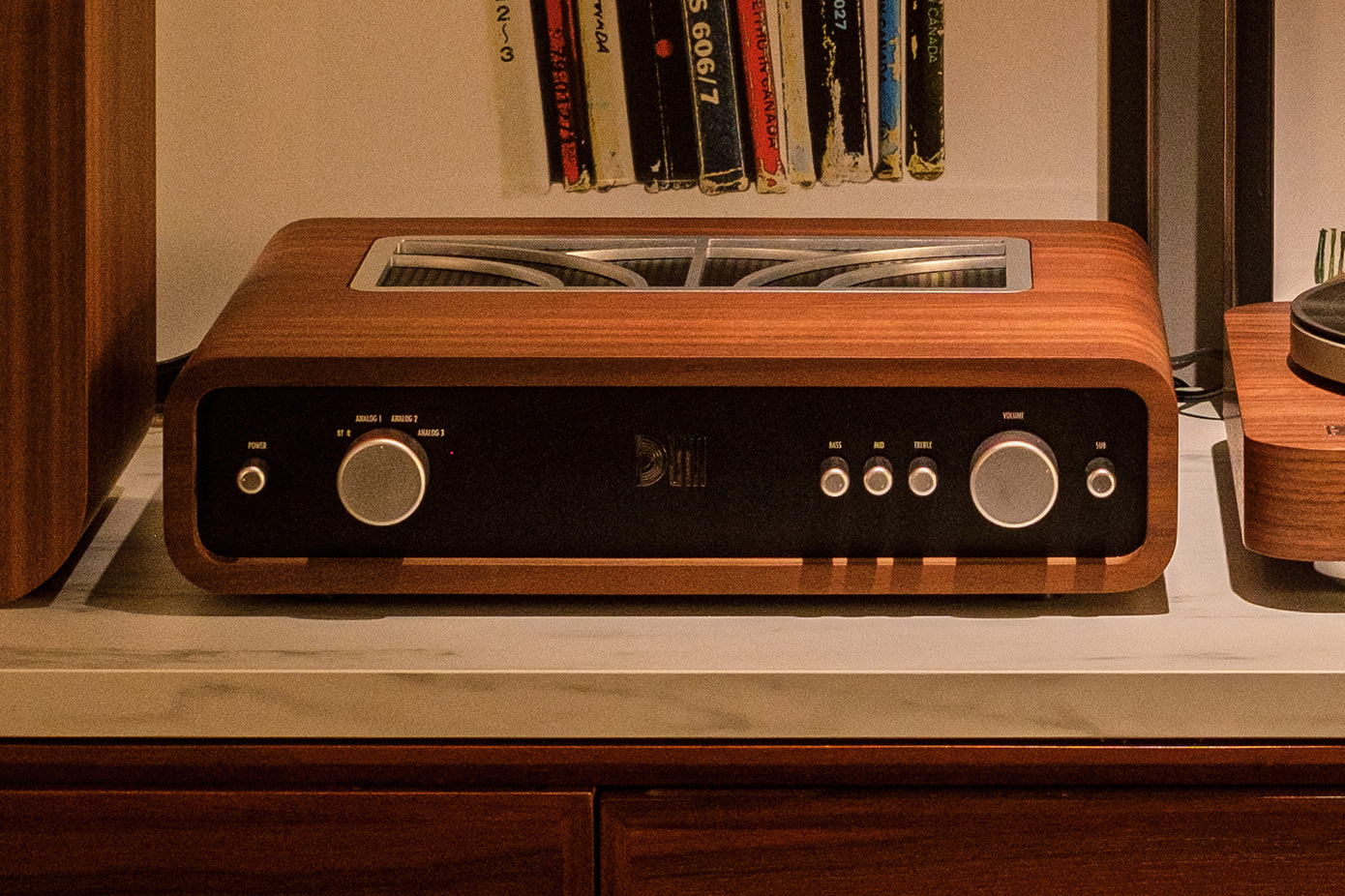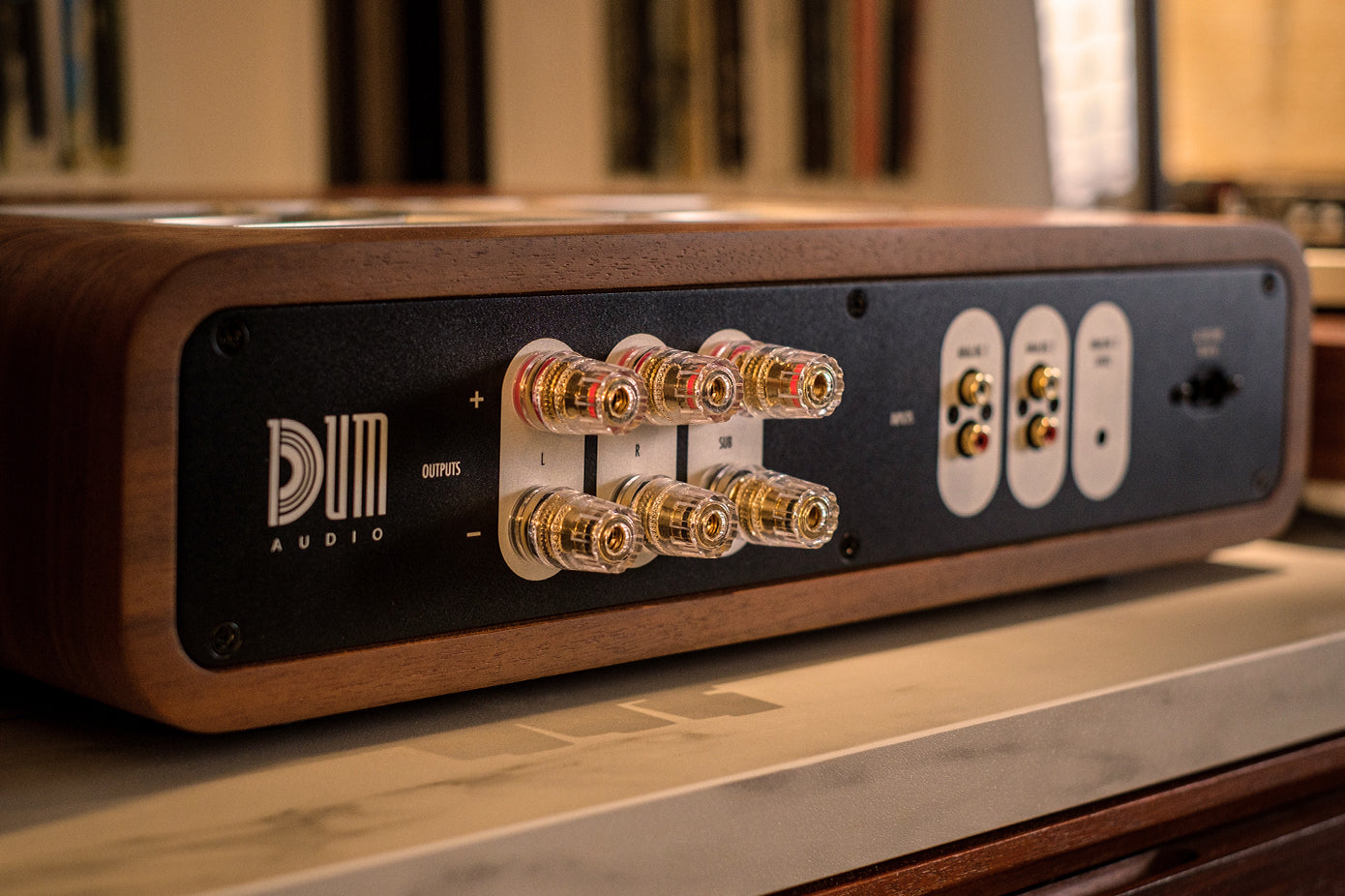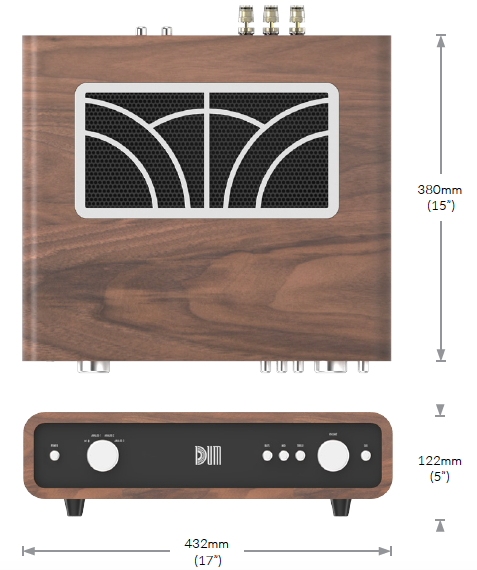 We have limited inventory so order today to ensure you don't have to wait.

Do we offer free shipping on all of our products? You better believe it!
For the best deal, get the stereo system that includes a turntable, amplifier, and pair of passive speakers.

A Powerful Integrated Amplifier
You're brave if you go anywhere close to full volume. Dum Audio's integrated amplifier is engineered to deliver your favourite albums cleanly and forcefully to your speakers, whether from an analog input (like our turntable) or streamed via bluetooth from your device. It's as easy on the eyes as it is to operate. 
Integrated Amplifier Features
Solid MDF enclosure with real hardwood veneer
Solid aluminum components
Tone control: bass, mid and treble
Power output: 100 Watts RMS per channel + 200 Watts RMS subwoofer
Analog inputs: 2 x RCA line in, 1 x 3.5mm line in
Bluetooth 5.0 with aptX
Output for a passive subwoofer (click here to view the Dum Audio Passive Subwoofer)
The Best Is All We Have To Offer
Most Hi-Fi brands offer multiple versions of each product, forcing you to pay extra for the best versions. Dum Audio is different. Each of our products was carefully designed and engineered to be simple to operate and deliver clear and powerful sound.
The Amplifier
Liquid error (templates/product line 47): Error in tag 'section' - 'sezzle-widget' is not a valid section type

Dum Dum Dum Dum

WoW! Im just in awe at the sound of my DUM Audio system…it's surreal how well it sounds. The shear magnitude of the bass along with the ever crisp highs with the precise mids make this a true HiFi system for the ages! Love the look, feel and sound!
I purchased the whole kit and caboodle.
Spectacular
Sounds as good as it looks
Appreciate everything you did!
I had a minor problem with the power button and they got it straightened right out. Fantastic sound - could not love this system more!
Dum Audio Amplifier
I had a respectable setup: Rega RP-1, Box-Design Speaker Box 5 bookshelf speakers and a vintage Technics by Panasonic amplifier - However, the amp required lots of maintenance. I saw the pre-order ads for the Dum amp and their 6 month trial policy and thought 'Heck, what do I have to lose?'
After (very patiently) waiting through the supply chain issues they were facing, it finally showed up! After turning it on, I didn't realize a pre-amp was required with my turn table as my old Panasonic amp included one.
I found a respectable preamp and am happy to say, the Dum Audi Amplifier sounds fantastic and looks great. When people as if it sounds as good as it looks, I have to say yes!
I'm definitely looking at adding the Dum Subwoofer to the setup for more low end, although it still sounds great without.